Relieving catheter pain
by Tally on December 15, 2009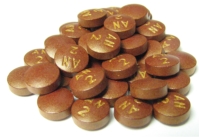 I wrote previously about having to wear a Foley catheter. At the time I wrote those posts I could not recall the analgesic that I used to relieve the irritation and pain of the catheter. Well, I found a pill bottle with my leftover stash.
During each of my two emergency room visits the doctors inserted a latex catheter. The latex irritated me. Most likely I had an allergic reaction to the latex. Also, the latex catheter was stiff. Every time I sat down or bent over, there was a pain where the catheter bent inside my groin.
During my second ER visit, I pleaded with the doctor to give me something for the irritation and pain. He wrote me a prescription for Pyridium. Pyridium is a tradename for phenazopyridine. It is an analgesic for the urinary tract. The drug is a tablet taken orally, preferably with food. It is quickly secreted through the kidneys and relieves pain and irritation from the catheter.
As soon as the second latex catheter was inserted, the irritation started. I went immediately to the drug store and filled the prescription for the generic version of Pyridium. I took the first tablet in the parking lot. By the time I got home I was feeling better.
The only side effect was my urine was a deep orange color. And, it stains. That was no problem because I live in East Tennessee, Big Orange Country with the local Tennessee Vols football team.
At first I was taking the full dose of 3 tablets a day. As the irritation and pain subsided, I reduced the dose and took the pills only as needed.
When I finally saw my urologist, he removed the latex catheter and inserted a silicone catheter. I did not react to the silicone. The silicone catheter was also a lot more flexible and did not hurt when I sat or bent over. I stopped taking the analgesic.