Wearing a catheter, part 1
by Tally on July 18, 2008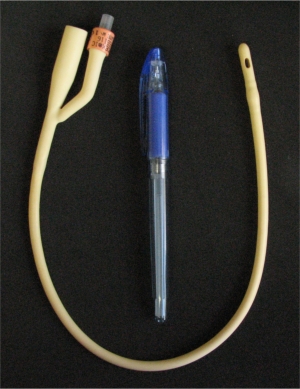 As mentioned in my last blog entry, I made a trip to the emergency room at the local hospital to have a catheter inserted in my penis. The catheter relieved my acute urinary retention problem.
I did not know what to expect. I was ever rarely sick. Never had a catheter anywhere near my body. This catheter was about as thick as a pencil. It was inserted, with silicone lube, into my meatus, through my penis, through my closed up prostate gland, and into my full bladder. Once in place, the nurse inflated a balloon at the end of the catheter so that it would stay in place.
I had a small plastic bag that attached to the exposed end of the catheter. My urine continually dripped into the bag. I needed to empty the bag every couple hours-the same as if I was urinating normally.
I was surprised. Just wearing the catheter was not bad or painful. At least if I was standing up. But, sitting down made the catheter bend somewhere around my prostate. That was more than irritating, but not quite fall to the floor painful. So, I stopped sitting. Except, I sit at a desk working all day. My solution, although not entirely satisfactory, was to kneel on a pillow instead of sitting in my chair.
After wearing the catheter for a week, the irritation just got to be too much. I made a trip to the hospital emergency room to have it removed. We waited in a tiny, cold room for someone to come in and remove it. Finally, a nurse showed up. She had me undo my pants. Without a "hold on" or any advance warning, she quickly pulled the catheter out of my penis. OMG! I though all my internal organs were going to come out at the same time. The nurse then had me try to urinate. A small trickle came out, so she sent me home.
It was such a relief not to have the catheter in me. I enjoyed being able to once again sit and move around without a sharp pain from the catheter bending inside me. But it was short lived.
On the second night after the catheter was removed, I woke up in the wee hours of the morning. I had to pee, but nothing would come out. I stood in front of the toilet, waiting for something to come out. The pressure was building. I was not in pain, but I knew I had to pee. I would try to force it out by contracting my abdominal muscles. That hurt.
We made another trip to the hospital emergency room. 6 am in the morning and the ER was packed! What are all these people doing there that time of day? They took my information and told me to have a seat and they would call me. I could not sit. Walking back and forth did not help. I tried to go to the bathroom in the ER, but that did not work. I started sweating from the pain as the pressure built up.
My wife intervened on my behalf. They let us inside the ER. The ER rooms were overflowing. Gurneys were everywhere. Patients were lined up along the halls. They stuck me at the end of one hall and told me to lay on the gurney. No way could I lay down. I stood next to the gurney. My bladder was more than full. I was sweating. I was clenching my fists to focus on something other than the pain in my abdomen. I did this for about 20 minutes. I saw that one of the nurses noticed me. I could see him whispering so another person behind the main desk. Finally, he walked toward me. Thank goodness, relief was on the way! He wheeled me into what looked like a storage room. In a few moments he had the catheter inserted and I had a good flow going. Over 700 ml came out.
Afterwards, a doctor came by to check on me. I asked if there were anything that would help with the irritation and pain from wearing the catheter. He said sure, and gave me a prescription for a urinary tract anesthetic. Why couldn't they do that the first time I got the catheter in! The anesthetic worked wonders. I could sit down and move around without any pain.
Note: The pictured catheter is a size 16 French, which is a medium-large size. A pen is used for size comparison.