How I am losing weight
by Tally on August 22, 2012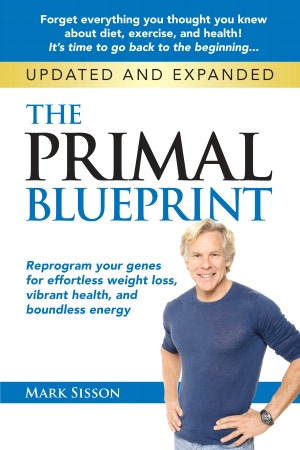 I recently posted about losing weight and its impact on my foreskin restoration.
For those that wonder what I have been doing to lose weight, I owe a lot to the Primal Blueprint at Mark's Daily Apple. Mark Sisson offers a free program on his website and he has a book (shown on the right). I just read his blog and downloaded his free materials. Either way, he offers a lot for those looking to learn a better way to eat and live.
After reading a lot of his material, the first thing I did was start doing his "lift heavy things" exercises. These exercises are simple, but effective. They use bodyweight for a whole body workout. The exercises are pushups, pull-ups, squats, overhead press, and the plank. I do them in my office after workhours. Two sets of the five exercises takes me about 30 minutes.
I thought I was in halfway decent shape. I was wrong. A person in shape should be able to do 50 pushups. I could not even do 20 without stopping. I knew I would have trouble with pull-ups. I never could do them well.
Squats I thought would be easy. I love doing squats in the weight room. But these squats were different. An in-shape person should do 50 squats without a bar, just body weight. Deep squats. After 30 squats my legs were burning. After 40 squats my legs were on fire and I was panting. After doing 50 body weight squats I was breathing like a freight train going up a mountain.
When I started, I was pathetic at the 5 exercises. But I do them faithfully and I am progressing.
After about 2 months of the bodyweight exercises, I added the moving slowly part of Primal Blueprint to my workout regimen by swimming laps at the gym. My gym has a 25 meter indoor pool. At first I could barely swim one length. My gym also has a 50 meter outdoor pool. After two months I can swim one length outside with a short rest before doing the other half of the lap.
All this exercise, which amounts to less than 40 minutes per day, makes me feel great. I feel much stronger and I do not get winded doing simple things. My resting heart rate is approaching 50 bpm. That is close to what it was when i was a teenage distance runner. But all this exercise does make me want to sleep more. No more 3 or 4 hours sleeping at night. I do not wake up unless I get at least 6 hours (more like 7) of sleep at night.
As I started exercising again, I also started paying attention to what I was eating. I cut back on the processed foods and started watching my carbs. I slowly started to lose weight. I began using MyFitnessPal to track what I eat. Knowing what I ate every day jump-started my weight loss to about 1 pound every week or two. Monitoring the food I eat is also teaching me what foods I should be eating and how much of other foods I can eat without falling out of nutritional ketosis.
Mark's Daily Apple website directed me to Doctor Attia's Eating Academy. The doctor's blog helped me eat better. He motivated me to start eating very low carb, high fat, similar to what I did years ago when I followed the Atkins Diet. I have been in nutritional ketosis for the past two months. That is, I eat so few carbs that my body relies on my fat stores for energy. I am now losing about 1 to 2 pounds per week.
A typical day's meal
For breakfast on workdays I have a Hardee's Low Carb Breakfast Bowl and on weekends I cook myself an omelet.
For my second meal I will eat some meat and cheese, along with some low carb yogurt.
For another meal I may have a grilled chicken Caesar salad or barbeque or a quiche or an omelet.
For a snack I will have a handful of almonds or hummus.
I do not really count calories, but according to MyFitnessPal, I eat about 2000 calories a day. I find it difficult to even eat that many calories. I basically eat when hungry. The low carb, high fat diet leaves me satisfied and I do not crave food like I used to.
I eat less than 50 grams total carbs every day. I usually average around 40 grams of carbs, and that includes fiber. I also shoot for between 100 and 120 grams of protein every day, that is about 1/2 gram protein per pound of bodyweight. Everything else I eat is fat. I average about 10-70-20 percent calories of carbs, fat, and protein.
I have no trouble eating low carb, high fat. I have regular blood work done and my cholesterol numbers are good. I feel a million times healthier than before, although I am still working too much and my foreskin is still too short.

Related Links:
Footnote: I am not affiliated with Mark Sisson nor his websites. The above image of his book is linked to Amazon.com and I receive a small commission for any book purchases made after clicking the book's link. That is one way (admittedly small) that I help cover my expenses for this site.