Book: Sex As Nature Intended It: The Most Important Thing You Need to Know About Making Love
by Tally on October 23, 2009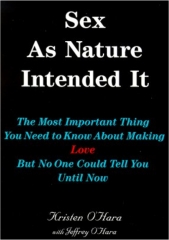 Sex As Nature Intended It: The Most Important Thing You Need to Know About Making Love, is a book authored by Kristen O'Hara.
Chapter 8a, The Normal Thrusting Rhythm of the Natural Penis vs. The Abnormal Thrusting Rhythm of the Circumcised Penis: How It Affects a Woman's Sexual Pleasure during Intercourse is reproduced on the website.

I believe that once women come to realize how important the natural penis is to their sexual pleasure and love-relationship happiness, that the key to a woman's sexual ecstasy is the foreskin of the penis, that foreskin restoration by the man will allow them to experience new joys from intercourse that they never thought possible, they will want their men to have foreskins.
I credit the Sex as Nature Intended It website for convincing me to restore my foreskin. The Top 10 Ways Circumcised Sex Harms Women pages very graphically describe the difference between sex with a foreskin and with a circumcised penis. Reading those pages made me realize why I needed to use so much lube when having sex. It also helped explain why my wife often complained of being sore after sex. After only a few months of restoring my foreskin, we stopped needing lube and she stopped getting sore from sex. The book Sex as Nature Intended It can be bought from Amazon.com.

Related links:
Tags: