The ManHood - Underwear for circumcised men
by Nathan on February 1, 2012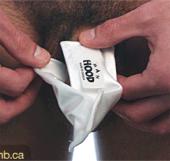 click to embiggen
The vast majority of men who are restoring their foreskin cite "lack of sensation" as their main reason for restoring. I'd like to share some of my own story to regain the sensitivity that was lost due to being circumcised as an infant.
If you have ever been having intercourse or receiving oral sex from your partner and it did not feel quite the way you thought it should, it may be due to a loss of sensation on your glans (the "head" of your penis). Many circumcised men suffer from this and don't even realize what's causing it. In fact, men's health forums are usually filled with posts about this problem.
They ask, "Why don't I feel anything during sex?" or "Why can't I tell if I'm inside my partner?"
I knew I had a problem with lack of penile sensitivity as young as 16 years old. By my mid-20s, I would estimate that I'd lost up to 80% of the feeling on my glans. (Although there's no way to accurately measure, that is my best guess.) That is a pretty drastic reduction, but many guys have the same kind of damage from circumcision.
Now that I've been restoring for several years, I can measure the before and after results. I'd like to share some of the symptoms guys might experience without realizing their loss:
If you can't "feel" yourself going into your partner, but only know you're there by judging their reaction or the change in pressure on your penis. This is a problem many circumcised men don't realize was caused by their surgery. A healthy, sensitive glans will experience a wonderful sensation as soon as you enter your partner. I didn't understand this feeling until I'd regained sensitivity. What a difference it makes to feel this rush of pleasure in the head of your penis!

If you ejaculate from the friction of sex, but not the actual pleasure of it. This was another one I didn't realize before. When you have decreased sensitivity, achieving orgasm becomes a delicate task. You have to find the right amount of movement at just the precise angle, and all the while you're afraid of "losing it." You may think you're building up to a climax, only to have it disappear and then become frustrated and unhappy because you can't finish. When your sensitivity is restored, sex becomes a peaceful and euphoric experience. You're experiencing the sensations and your whole body is in ecstasy, yet you still feel like you have complete control and will confidently achieve orgasm when the moment is right.

If you're receiving oral sex and it feels "good," but you can't ejaculate without some kind of additional stimulation like having your partner masturbate your penis while they give you head. Oh, and it might take you 10 or 20 frustrating minutes to get there, filled with many false alarms of thinking you're close but then losing it. Again, this is because you're reaching orgasm due to friction and not actual pleasure. When sensation is restored, you may be able to reach orgasm simply by receiving oral sex and it's a completely different sensation. You probably won't feel as exhausted afterwards because you're able to relax and not worry.
Of course this has just been my own experience. But the problems listed above are reported by many guys. All of these issues went away once I'd regained penile sensitivity.
There are many methods out there for regaining sensitivity, but most of them require having at least enough slack skin to pull over the head of your penis. Taping is a popular method, although I never could get on board with it. I felt like it was cumbersome and sticky, and truth be told, I'm kind of lazy. I hated having to tape and un-tape and re-tape after going to the bathroom. Lame.
If you're really tightly cut, there might not be any immediate solutions for you. Instead, you'll just have to start restoring until you have at least a little bit of skin to work with. Oh, and on top of being lazy, I'm impatient too. So I didn't like that solution.
My solution for regaining sensitivity came from a product called ManHood. It's been wonderful. Basically it's a piece of fabric that is hand-sewn to custom fit your penis based on your measurements. It protects your glans, just like a foreskin does, and within a month, I noticed a drastic improvement in penis sensitivity. I've now been a customer for 4 years.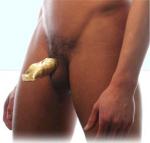 click to embiggen NSFW
Once I understood how great it felt to have new feeling in my penis, I was motivated to fully commit to a restoring routine. I now have enough skin to completely cover the head of my penis. Unfortunately I'm still not at a point where the skin stays put, but I'm getting there. (As many of you know, restoring can be a long work in progress.) Thankfully, the ManHood is versatile enough to help with that too. I just pull the skin over and put the ManHood on top and it holds the skin in place gently but firmly. So it works for all stages of restoring.
I hope this information helps circumcised men make an assessment about their own penile sensitivity (or lack thereof) and gives them some pointers on how to gauge success. I highly recommend starting with the ManHood to get that first preview of what a restored penis will feel like. You'll be so happy you did and will be driven to keep building on the momentum.
As they say in the forums, Keep on tugging!
This post was written by Nathan. Nathan is a fellow foreskin restorer and intactivist. He blogs at Nathan Exposed.
I thank Nathan for being a guest blogger who does not mind writing about how circumcision affects sexual pleasure. ~ Tally
Disclaimer: Restoring Tally published this post because he believes men need to know about useful products. Restoring Tally received no financial incentive for publishing this post.
Related Links: