Overcoming a botched circumcision (skin bridge)
by Guest Blogger on July 6, 2010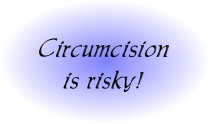 Where to begin.....
I was circumcised as a child like most men of my age, however; it was botched. Most of my life I grew up with a rather large skin bridge about 3/4's of an inch in length on the left side of my penis. It connected my shaft skin to the coronal edge of the head of my penis much like a picture I found on circumstitions.com.
My Penis looked pretty much exactly like one of those pics (see pic at bottom of page), except on the left side. I grew up feeling deformed because my younger brother didn't look like this at all. I was always very self conscious about it and was quite secretive. Also masturbation growing up was painful as the bridge would get very sore. All in all, quite annoying.
Progressing along, I went through High School and never kissed a girl or got involved with women in general for fear of it leading to them seeing my penis and freaking out at it's deformity. I had several girls try and kiss me and I would turn my head and start crying. Mentally I was just scared.
I went to college, and a good friend of mine that was very interested in me... decided she would just force herself on me, which led to an almost borderline rape blowjob (my first sexual experience). She obviously didn't notice the skin bridge in the dark and when things were over I never spoke to her again, ever. At the time I was 19.
A couple years later and still in college (different college), I still had my skin bridge. My parents had been told when I was very young that the skin bridge would resolve itself and eventually tear and it would be fine. Sadly, they were very mistaken. Over these last couple of years I would attempt to cut this skin bridge multiple times with many different sharp objects. All were very painful, and didn't work. I even tried it drunk a couple of times to no avail. So I'm in college and I was pretty much the only virgin in my circle of friends and in college, everyone was doing it. I felt like a freak and was interested in lots of women but I never could bring myself to be intimate.
Eventually I had a good friend that was interested in me, and one night I gave in. I actually hadn't intended on having sex but was messing around naked with her in the dark (as usual). Lets just say it went in unintentionally and it began. The entire time we were having sex I kept thinking to myself "people like this?* It took me over an hour to have an orgasm unprotected. She, by no means was a virgin and she flat out said I was the best she'd ever had because I had stamina. She thought I was fibbing about being a virgin. The problem was, I had virtually no sensitivity. She also didn't notice my skin bridge and at 21 I lost my virginity to this friend. A few days later I moved back home to live with my parents.
So I hadn't been home long when one day out of the blue, my dad asks me what happened with my skin bridge and asked to see my penis. I was ok with it and whipped it out and showed him that it never resolved itself. He was horrified and felt guilty and said I must immediately show my mother who was a nurse. Eventually she came home and I had to whip it out for her. THAT was not as easy, but I knew it had to be done. She immediately called the doctor she worked for and got me an appointment for the next day.
So I arrive at the hospital to see the doctor. My mother is in there and he starts asking me about masturbation, the pain I have etc. He could tell I was uncomfortable and asked my mother to step out (thank goodness). He eventually asked me to take off my shorts and underwear to have a look. I did as he asked and he was blown away. He said that in his 20+ years of practice he had never seen a) a skin bridge and b) one of my severity. (oh lucky me). He then proceeded to ask me questions about my sex life. (What little there was to it.). I let him know that sex was not enjoyable, it was in fact painful to a degree because of the skin bridge and how I felt most of my life. He was seriously horrified by my story, and as he examined me yet again, came to the realization that the skin bridge had actually developed a blood supply that led from my shaft to the head and that any cutting or tearing I would do on my own would possibly have made me bleed out (wonderful). He asked if it was ok to get some of his colleagues for further examination. At this point I was balls deep in the situation and I just wanted it fixed (age 21). He returns with three more doctors and they poked, prodded, and twisted my junk and asked me the same questions as the first doctor, who was also a family friend. So my situation was that none of them, that's four total doctors, had never seen anything like it. Consensus was for me to see the resident urologist/surgeon.
I leave his office and head up to the other doctor's office, where upon inspection, he agrees that it is in fact the most severe skin bridge he's ever seen. I was scheduled for surgery two days later for a re-circumcision. (oh the joy) I was quite nervous about all of this but also relieved because I felt I would finally get some closure to this situation. Couple of days later they put me in a room in a gown while I wait for my scheduled time which was 7am and I sat in the room until 3 in the afternoon (sigh). Meanwhile in that time, every flipping family member I knew swung in to to say hi and check on me. Seriously!? This was something I kept private my entire life and suddenly it's the most public event of my entire life. Horrified doesn't even being to touch my feelings about all of this.
Finally they wheel me back, I'm laying on the table and they pull up my gown and tie a tourniquet around the bottom portion of my shaft. (not sure how because I was so nervous it had to only be sticking out a 1/2inch!).
Eventually the gas hit me and I was out. Twenty minutes later I was away with a bandage around my junk and a bottle of pain killers and on my way home for recovery.
The pain pills were every 4 hours which my parents took literally. I slept for 23/24 hours that first day. After that I refused all pain pills because I could not function and it nauseated me horribly. The day after this I woke up with morning wood, which tore most of the stitches on my shaft and I bled horribly! I of course grabbed a towel and sat in my room praying for my erection to go away. Eventually it subsided and a scab showed up and I resumed taking pain killers because they actually kept the erections away, though I didn't take it to the full dosage instructions. As the days started to pass and the swelling went down and the stitches started to dissolve, I ended up removing the stitches that were left because of the insane itching. For the most part I was healing quite nicely, if you can call it nice. The shaft was going to obviously have a larger scar than I would hope because of the stitches tearing and me keeping my mouth shut because of embarassment. No way I was gonna wake up my family to view my giant blood erection. Now for my glans/head, I had a 3/4" flap of skin and I was disgusted by this.
Couple weeks go by and I get to head into the urologist that did my surgery. He asked me about everything and how the healing was coming and examined me. He was rather impressed with his job. I of course expressed concern for my flap. The doctor acted like it was no big deal and told me to think of it like a natural french tickler and the girls would love it! Seriously? I didn't press the issue and moved on with my life.
Needless to say I was relieved to have the skin bridge taken care of, but wasn't satisfied with the outcome. The resulting surgery left me with a flap that gets sore quite easily and a spot that feels like a rock under the skin on my shaft that also gets sore which is obviously scar tissue on my shaft. Needless to say as time went on I was more and more upset with what had happened to me. I also, I find out that the doctor that performed my surgery was later removed from medical practice due to an addiction to pain killers. RAR!
Around this time I started researching skin bridge, which would be age 21 and 1998ish. I find some information on the internet about foreskin restoration. I see it and read about it and I'm completely disgusted by it thinking foreskin restoration is for weirdos. Over the next year I keep researching and learn about circumcision and intact penises and what most boys are put through here in the US.
A couple of years pass, and I meet my wife and I explain to her right off what happened to my penis and she acts like it's of no consequence and doesn't even care about the flap. We eventually have sex, get married a few months later, and I'm enjoying what I believe to be a normal sex life. Except that it takes me around an hour to achieve an orgasm. Even masturbation is a chore at around 30-45 minutes a session, and with my extremely high sex drive it becomes apparently that I can't consistently spend 2-3 hours a day masturbating.
I start to research penis related problems, retarded ejaculatory disorders, etc. Eventually I run across foreskin restoration and I talk to my wife about it. She's all for whatever I want to do. So at 23 (2001-02) I started doing restoration with O-rings and X-taping. I apparently had an extreme circumcision as a child as erections were VERY tight. With my various jobs and up and down, it's been hard for me to follow a routine over the years making my progress extremely slow. Eventually I tried tugahoy, PUD, TLC Tugger, CAT II, and another version of it. Currently I use a Myskin Clamp and the CAT devices off and on. I still have my PUD and may start that up. I went from what I believe is a CI-0 to what is now called a CI-3 and I've been stuck there for several years. I am now 33.
My sex life is pretty wrecked from all of this. I go through spurts where I can't achieve orgasm at all, or the extreme amount of thrusting and positions I need to achieve orgasm reduce to me a sweaty lump of flesh gasping for air and more frustrated than when it started. My wife has always enjoyed the stamina because she can orgasm quite easily and spends most of our sex trying to coach me and get me to do the same. To say that I hate circumcision and what it does would be an understatement. I would love and cry if I could be like my friends that can get off in 5 minutes instead of an hour plus. It's taken quite a toll on sex when your wife tells you she doesn't wanna have sex because it takes too long and we have to be somewhere because there's no such thing as a quickie.
In the last couple of years I met a co-worker and we became the best of friends. Eventually we started to talk about things and our sex lives and he confided in me about his penis. He was uncut and had never told anyone ever about it because here in the midwest it is VERY rare to not be circumcised. In fact I have never seen an uncut penis in day to day life ever. As our friendship grew we told stories and it was amazing that his intact story mimicked my own story but on opposite ends of the spectrum. He was ashamed of his intactness and girls would talk about how disgusting being uncut was in front of him. He even puked one time when a girl tried to get him to have sex because of something she said about disgusting uncut penises and she'd never be with a guy like that.
This friend of mine changed me and brought me a renewed hope for restoring my foreskin, and I started to work harder and harder at restoring. I'm trying hard to get past my CI-3 plateau and I talk to him and show him pictures of my progress. He has helped me and I helped him by letting him know how lucky he was. He is 10 years younger than me and in return I've taught him many things about pleasing women and how to extend his extreme sensitivity from being intact. He is now becoming very confident with his penis and met a girl that loves his intact penis. With my direction and encouragement he's overcome his sensitivity and his being intact gives me the motivation to be like him. I can honestly say I love this man like a brother and we talk about everything.
One day I WILL be restored and hopefully it will get me past all my non-sensitivity issues and I will be whole again. I let everyone know I am restoring and tell my story about the horrors of circumcision. Hopefully with my story I can help people make the proper decision and keep anyone from the same fate I have had.
This is my story.
The above story is by a guest blogger who wanted others to know what infant circumcision did to him. Male infant circumcision has risks and complications. Our guest blogger is one of many who have a botched circumcision. Fortunately, our guest blogger is entering a better stage of his life after exercising his choices. Foreskin restoration is giving him hope.
Related Links:
Circumcision damage: Skin bridge: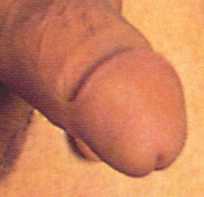 This picture is from the Circumstitions website and shows a botched circumcision. The picture shows the type of skin bridge the guest blogger had.