A tight restored foreskin pucker
by Tally on November 17, 2009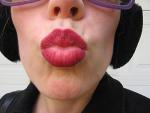 I really don't like cold weather. One nice thing about living in Knoxville, Tennessee is that the weather is moderate. It gets hot in summer, but not unbearably so. Wintertime will often see temperatures bouncing between freezing to t-shirt weather. It is about this time of the year, mid-November, that the temperature transitions to being more generally cool than warm. And, along with the cooler temperature comes PUCKER!
With cooler weather, my restored foreskin puckers tightly around my glans, just like my scrotum contracts and pulls my testicles toward my body. The pucker is so tight, that sometimes it takes a bit of force to retract my foreskin to urinate.
Pucker in a restored foreskin is caused by the dartos fascia, or tunica dartos as it is also known. The dartos fascia is a layer of muscle fiber that causes the skin to contract in all directions. The scrotal skin also has a layer of dartos fascia. The dartos fascia has a slow, involuntary contraction in response to body temperature. In cold weather, the dartos fascia contracts and causes the scrotum to pull the testicles toward the abdomen.
The outer skin also has a layer of dartos fascia just below the skin. This layer of dartos fascia causes the outer skin of the foreskin to contract and hug the glans. This happens naturally and occurs when the restored foreskin has sufficient length to cover the glans.
I have full flaccid coverage almost all the time. That is, my restored foreskin extends to cover my glans when I am flaccid. I do not have enough inner foreskin remnant to cover my glans. Instead, I have a double layer of outer skin next to my glans. With this double layer of outer skin, I also have a double layer of dartos fascia. When these two layers contract, my foreskin clamps down doubly tight. The pucker is so tight on cooler days that it shuts off the flow of urine until I retract my foreskin.
One thing I noticed about my puckering foreskin is that it will roll over my glans. As my foreskin contracts it tends to conform to the shape of my glans. When my foreskin was shorter and I did not have full flaccid coverage, my foreskin would push my glans toward my abdomen as the skin contracted over my glans. I would end up with a tight pucker with the foreskin totally enclosing my glans. But, I could tell from the length of my foreskin that the glans was being forced inward. Although I was flaccid, my foreskin would be stiff from the contractions.
Now that I have more skin, the foreskin pulls itself forward as the skin contracts. What it is doing is rolling itself over the glans until the skin is fully contracted. When I measure my flaccid penis, I can tell the glans extends as far as it normally would uncovered, but now I have restored foreskin covering it and even extending a fraction of an inch past my glans.
Of course, I notice this more when the weather turns cool. In the summertime my foreskin hugs the glans, most of the time. If I am hot, such as after working outside, my foreskin will not hug the glans tightly. My warmer body temperature allows the dartos fascia to relax and not contract as much as with cooler weather. Instead, my foreskin will have less pucker and will have a tendency to ride up my glans as I move around. I have heard that this is less of a problem the longer the restored foreskin gets. I'll report back on that after I grow some more skin.
Tags: