Intactivism: Week in Review April 21, 2012
by Tally on April 21, 2012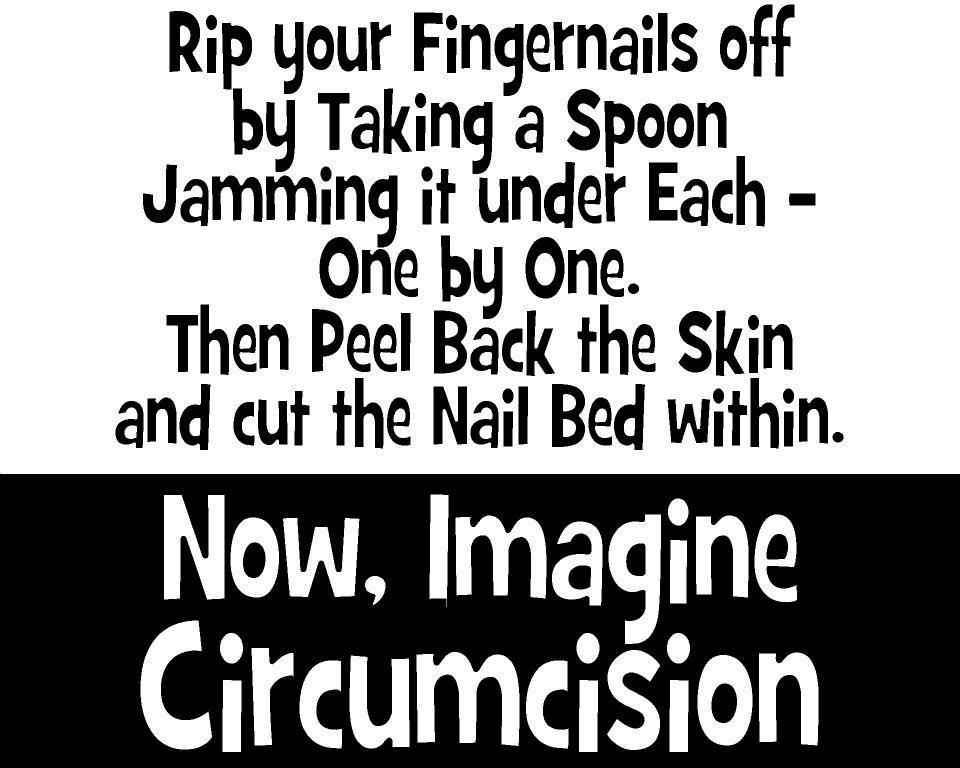 Parents, protect your babies. Support intactivism. The following list includes blogs, articles, and websites of interest to Intactivists that were published in the past week. This is a running tally of the ones I found interesting.

Sunday, April 15, 2012
Sage Beginnings: On Circumcision
Dr Momma's peaceful parenting post on The Circumcision Decision: Who Made You The Decider? is quoted by a Houston, Texas, doula and educator. Male circumcision is a cultural practice that is slowly going away.

Monday, April 16, 2012
barrels of oranges: For the Modern parent and the Circumcision Decision
A mother gives 8 reasons why modern parents should leave their sons whole and intact. It is important to remember that circumcision is a euphemism for genital cutting, for a permanent, irreversible body modification of a baby. Every human has a right to their whole body.

Tuesday, April 17, 2012
No Cookies For Me: On circumcision...
A weak attempt to advocate raising male circumcision in female genital cutting discussions. The author has good intentions, but he is woefully uninformed about the harms of male circumcision. He recognizes that male circumcision is not a good thing, but he does not recognize that male circumcision causes lasting harm by removing the protection of the internal parts of the penis and by removing the gliding action.

Wednesday, April 18, 2012
Beyond the Bris: Questioning Jewish Circumcision: Genital Autonomy "Zine" Makes Debut
An intactivist in New York City recently published a zine on male infant circumcision titled "Genital Autonomy: Why Circumcision Must Be Stopped." Beyond the Bris interviews the intactivist about his project to educate others about genital integrity and the harms of circumcision. He has a website, Question Circumcision.org, that promotes the zine.
Choose Intact: Lawsuits as Strategy
A discussion of the recently filed lawsuit by a man who is unhappy that he is circumcised. Unfortunately, the man is representing himself and the lawsuit is likely destined to failure. But we give the man credit for trying.

Thursday, April 19, 2012
Denver Post: Colorado Senate's budget debate includes circumcisions, ATMs at strip clubs
A Colorado state senator wanted to amend the state budget to reinstate Medicaid payments for male infant circumcision. Another senator argued that infant circumcision is an optional procedure without consensus on its medical need. Thanks to the outcry from citizens, the amendment failed to become part of the budget.
LivingMom: New Study: Circumcised Men Unable to Process Emotions
Current clinical research shows that newborns are truly feeling, sensational, and understanding beings. A study published last year shows a link between the early trauma of circumcision and the personality trait disorder alexithymia. People suffering from alexithymia have difficulty identifying and expressing their emotions. Circumcised men are more likely to suffer from alexithymia than uncircumcised men.
The League of Ordinary Gentlemen: Rose started it
A blogger at the League states that he is against male infant circumcision, in spite of another post on the site (by Rose) that was misquided (I am being generous here). Jonathan has written previously about why he is against male infant circumcision.
mama raw: Circ psych: fox and the sour grapes
Cognitive dissonance. Frequently, when confronted with information about male infant circumcision men argue that circumcision is the best way to be. Even when presented with facts showing the harm of circumcision and that a valuable part of their penis was removed, men continue to assert that they prefer to be circumcised (even though they have nothing to compare it to).

Friday, April 20, 2012
Don't Get Stuck With HIV: Wait and wipe, don't cut
A study made in Africa several years ago showed that intact (uncut) men who delayed washing after sex had less risk of HIV infection than circumcised men. Unfortunately, little has been done with the study since it was published, even though the study showed a 41% reduction in HIV for intact men.
The Western Courier: Campus Confidential
A college paper article about circumcision. The author puts forth the case that infant circumcision needs to stop for being a harmful practice.
The Men's Network: UK Men's Health leader calls for national debate on male circumcision
The leader of The Men's Health Forum (MHF) in the UK is calling for a public debate where the harms of male circumcision can be openly discussed. A one day mini conference – How To Prevent Unnecessary Male Circumcision – is scheduled at Keele University in July.

Saturday, April 21, 2012
Croydon Today: Croydon circumcision campaigner caught with child porn videos
The head of the circumfetish group, The Gilgal Society, was convicted of possessing child pornography. The 68 year old man claimed to be celibate and he admitted that the child pornography videos were his. The court was lenient and sentenced the UK sex offender to a two year suspended sentence and ordered t complete a sexual offenders rehabilitation course. Apparently, the UK does not have as strict a stance on child porn as does the United States.
Geoff's Shorts: Circumcision and Yaweh's Changing Morality
A rational look at the circumcision covenant in the bible. Unfortunately, the essay will appeal only to other rationalists.

Tags: