Idiot America: How Stupidity Became a Virtue in the Land of the Free
by Tally on April 24, 2010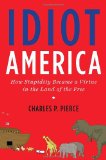 I do not consider myself an intellectual, although I am educated. I have an engineering degree. I read on many diverse topics. I attempt to learn one new thing every day. I may listen to the opinions of others, but I am typically skeptical and do not blindly believe everything I hear and see.
But, when I look around me, I sometimes think that I am the only one not swimming in the shallow end of the gene pool. The world around me seems to be filled with idiots. Fortunately, I am not the only one that has this same feeling.
The book, Idiot America: How Stupidity Became a Virtue in the Land of the Free, is a humorous look at the dumbing down of America. We see it all around us. Death panels will put old folks to death. The end of civilization is near because the President is doing, or not doing, something.
Conspiracy theories abound.
The author declares, "The Culture Wars Are Over and the Idiots Have Won." I tend to agree with him. In one way, the book is a call to action. The dimwitted, the people who refuse to use to their brain, who refuse to think critically, must not be celebrated.
Instead, intellect and intelligence must return to being admired. We need to venerate clear thinking. Logic over hysteria. Education must return to the masses, to raise them from the mire of idiocy and dumbness. The uninformed, those who choose to let others think for them, must be removed from the spotlight.
I consider myself fortunate. In my youth I was surrounded by teachers who challenged me to think, to question, to examine critically. Their legacy was a person who is forever the student. I accept little at face value. I have learned to be skeptical.
The book, Idiot America
, is a good read. Unfortunately, those who need to learn its lessons the most are the least likely to read it. After all, idiots rarely read anything, let alone books.

Disclaimer: The book links above will take you to Amazon.com, where, if you buy the book I will make about 6 cents and will be that much closer to retiring to my Caribbean island.
Tags: