Intactivism: Week in Review February 20, 2010
by Tally on February 20, 2010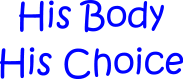 Say no to circumcision - support intactivism. The following list includes blogs, articles, and websites of interest to Intactivists that were published in the past week. This is a running tally of the ones I found interesting.

Sunday, February 14, 2010
Springerlink: Late complications of newborn circumcision: a common and avoidable problem
Study of later complications of children who had neonatal circumcisions. Penile adhesions, skin bridges, meatal stenosis, redundant foreskin (incomplete circumcision with uncircumcised appearance), recurrent phimosis, buried penis and penile rotation were the most frequent complications treated after the original circumcision had healed.

Monday, February 15, 2010
Philippine Star: Tuli or not tuli?
A Filipino mother writes about the circumcision decision, "This piece of advice takes the cake: Supot man ang anak mo o hindi, let him decide on his own when he is old enough to make his own decision. After all, it is his own body we are talking about . . . at ang pagkalalake naman ng isang tao ay hindi lahat nakasalalay sa kanyang penis."
antropologi.info: Yes to female circumcision?
The author puts forth an argument that female circumcision is a desireable practice. To support the claim, the author points to male circumcision and says the same reasons that justify male circumcision also justify female circumcision.
SheKnows forum: A urologist view on circumcision
A mother reports on a pediatric urologist who specializes in reparing botched circumcisions. She calculates that there are approximately 41,100 circumcision complications per year.
Research Ethics Law Blog: Circumcision, Science and Ethics
Commentary on the "Circumcision Deserves Circumspection" blog of January 28, 2010. The author agrees that male infant circumcision is unethical.
DrMomma: Peaceful Parenting: Dr. Dean Edell Statement on Circumcision
Dr. Dean Edell discusses the common myths about infant circumcision. Dr. Edell explains why male infant circumcision is a practice that must stop because there is no justification for it.

Tuesday, February 16, 2010
Adrian's Blog: Now Is Not the Time
Adrian writes how the abolishinists made promises to the women's suffrage movement, and later reneged on those promises. He draws paralles to the anti-FGM advocates promising to be anti-MGM as soon as they achieve their goals. Adrian correctly points out that human rights generally are all or nothing. Even though FGM is illegal in the US, the US is still a genital mutilating country.
Code Name: Mama: Researching Circumcision, Part 1: What Is the Foreskin?
A well-researched article on the functions of the foreskin. Unfortunately, circumcision removes the foreskin and these functions are unknown to the vast majority of men in the US.
DrMomma: Peaceful Parenting: Massachusetts MGM Bill Public Hearing
Information on the public hearing of the Massachusetts MGM (male genital mutilation) Bill.
Rolling Doughnut: Massachusetts Will Debate The Right to Bodily Integrity
A review of the currently pending Massachusetts Bill seeking to outlaw both female genital cutting and male genital cutting. The comments include lots of information as an irrational man attempts to defend infant circumcision.

Wednesday, February 17, 2010
Minnesota Daily: The circumcision debate, uncut
An article about the proposed Minnesota State Prohibition of Genital Mutilation Act of 2010. The Act seeks to protect children from genital cutting, including females and males.
Health Online: Doctors Opposing Circumcision - HIV / AIDS
A YouTube Video of John V. Geisheker, JD, LL.M., Executive Director for Doctors Opposing Circumcision, discussing circumcision in Africa.
Male Circumcision and HIV: MOMVERSATION.COM: Is circumcision wrong?
A review of a video with several mothers discussing male infant circumcision and their sons.
DrMomma: Peaceful Parenting: Christians: Baptism, Not Circumcision
The author makes a point that circumcision has absolutely NO place in Christianity. The New Testament makes clear that circumcision of the penis is not required.

Thursday, February 18, 2010
Quibbles: to circ or not to circ
A mom writes about infant circumcision.
Male Circumcision and HIV: DIGEST
RN magazine reports with blinders on, conflicts of interest plague medical field concludes the NIH, Muslim leaders work to correct the lie that circumcision makes men immune to HIV, and finally a couple of John Travis interviews.

Saturday, February 20, 2010
Woman, Uncensored: Save a Penis!!
A blog about parents who regret circumcising their infant boys. The author also advises her readers to visit and support DrMomma's Peaceful Parenting blog.
DRMomma: Peaceful Parenting: As Nature Intended
Dr Momma recommends the website As Nature Intended.
Tags: