Barefooting!
by Tally on November 17, 2010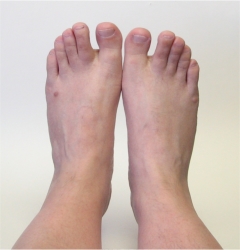 Facebook is great. I learn about lots of new things from my many friends. A few weeks ago I read a comment from a facebook friend about running barefoot. Huh?
I never heard of running barefoot. Sure, kids do it all the time. But adults? On roads? On trails?
A quick Google search and a lot of reading taught me that there are many benefits to being barefoot. There are even those that claim that modern shoes are over-designed. The cushy shoes, particularly running shoes, are more suitable for marketing than anything else. They are also claimed to be major contributors to injuries.
Since I am an alternative type of guy, the whole barefoot thing appeals to me. I ran track and cross-country in the early 70s. I continued to run after I went to college and after I began working. As I earned money, I could afford some of the "better" and more expensive shoes. As I worked more and more, my running dropped off.
I like this quote because, lately, running has not been fun: If you aren't having fun running, your technique is wrong. ~ Barehanded Matt
I also found this great YouTube video of the classic Barefootin' song:
YouTube video: Barefootin' Music Video by Aardman Animations 1987
From my research, transitioning from shoes to barefoot running takes time. As I noted before, I have been slacking for the past couple years. I have not been running much, so, in addition to transitioning I needed to get in shape.
I cannot work out at the gym in my barefeet, so until I get some minimalist shoes, I need to train my feet outside the gym. The first day I ran in place for a few minutes. I also bounced on my toes for a minute. It was not much, but I felt it in my calves.
The second day I ran about 200 yards. I work odd hours and spend a lot of time alone in a large office building. The longest straight hall is 50 yards long. The carpet is hard with a short pile. I ran back and forth twice for the 200 yards. I was amazed at how easily my gait changed to accomodate being barefoot. If anything, I ran too much on my toes. It felt good, although my calves still felt tight.
In the evenings at the office I kicked off my shoes and worked barefoot. I started running 400yards at a time. That is a bit shy of a quarter mile, but I really do not like running indoors. I did that in high school. We ran the school halls in the winter time to get ready for the Spring track season. I only ran inside when my legs and feet felt up to it, which was almost every day. I also ran in place occasionally.
So far, I like it. I enjoy running barefoot. Running in shoes, I used to feel like I was running in clodhoppers. I had a long stride and the heelstrike was jarring. Barefoot running is different.
I read about the short stride and the faster gait. It is true. Barefoot, I am running at about 3 beats per second or 180 bpm. Wearing shoes, my legs move at about one-half to one-third that rate. I was plodding along in my shoes.
The training video below shows it much better than I can explain.
Learning the Skill of Barefoot Running from Terra Plana on Vimeo.

Related Links:
Related Posts: