ARGH! My foreskin is not cooperating!
by Tally on March 18, 2010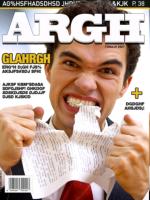 I have been restoring my foreskin for more than 18 months. For about the past year, I have had full flaccid coverage. That is, my foreskin covered my glans when I was flaccid. During the past year, my coverage became more and more reliable. I even developed a pucker. Life was improving, one tug at a time.
But, all that changed last Sunday.
On Sunday my foreskin wanted to stay retracted more than it wanted to be extended. Up until Sunday I was able to walk around naked in the morning with full coverage. During the day, my briefs kept my skin forward. Only at night did I wear a retainer to bed to keep me covered all night. Only rarely would my skin retract. Even then, all I had to do was pull it forward and it would stay there.
Then came Sunday. I woke up and went to the bathroom, where I took of my retainer for the day. It was when I was reading the Sunday paper that I noticed that my restored foreskin was slowly creeping back. My skin retracted until it was just covering my corona. I felt it retract. I looked down and saw that I was between a CI-3 and CI-4 on the coverage index. I am normally about a CI-7.
At first I thought this was just one of those few times where my skin retracts on its own, but stays when returned tot he extended position. No luck. As long as I stayed naked that morning, my foreskin would not stay extended. With my exposed glans, I had to be careful not to let it touch anything. My glans has returned to its normal, mucosal state is is too sensitive to be rubbing against the fabric of the couch.
Well, I eventually got dressed. Usually, my briefs keep my foreskin forward. But, not Sunday. I would start out covered, but, after moving around and walking, my foreskin would retract. Now, that was uncomfortable. My glans is too sensitive to rub against my shorts. After pulling my skin forward a few times and having it retract, I cried "Uncle!" and put on my retainer.
All day Sunday my foreskin misbehaved, and not in a good way. Monday was only slightly better. By Wednesday, my foreskin was almost back to normal.
I have no idea why my foreskin thought it best to stay retracted. The week before I changed my tugging routine. I had been using manual tugging method 2 for most of my tugging. I was also wearing my DTR for about 15 minutes 3 times during the week. But, a week ago I mixed up my manual tugging routine. I read about a different way of tugging by pinching. SI thought I would experiment and I started using the pinch method a few times a day instead of my usual tugging method 2.
I don't see how the new tugging method would cause my foreskin to not stay extended. I am still using the new routine and my foreskin is now staying forward like it had been before Sunday. Anyway, I am glad to have full flaccid coverage again.
Tags: