Pee In Morse Code - My Enlarged Prostate & Me
by Tally on December 21, 2009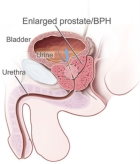 Another blogger who had prostate problems found this site and gave me a link back. Thanks! But that is not why I am writing.
I had a HoLAP procedure on my enlarged prostate.The other blogger had a green laser treatment of his prostate. He wrote a chronicle of his prostate problems. He starts with a description of why he calls his blog Pee In Morse Code. He describes his prostate surgery with the Green Light PVP procedure. He also describes his recovery and the health of his prostate as the years go by. For anyone considering treatment for BPH, his blog is a must read.
I must say that his experience was much different than mine. He had lots of post-surgery pain and blood clots. After my HoLap procedure, there was virtually no pain, but I still had a Foley catheter. He also had lots of urinary tract irritation and, apparently, the medications he was prescribed offered little relief. The irritation was most likely due to the green light laser inserted through his urethra.
Another difference is that he is taking Avodart, which reduces the size of the prostate through chemistry. I was offered a choice of medicinally reducing the prostate size or doing it surgically. I choose surgery so that I could avoid taking any drugs with their side effects.
Related links: